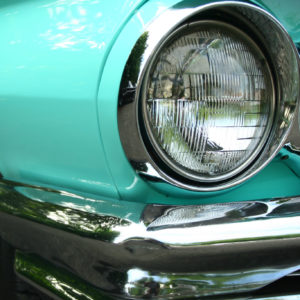 Few decades in American history were as revolutionary or as volatile as the 1960s. In the years between 1960 and 1970 a popular young president was assassinated, protesters took to the streets against injustice at home and abroad, men walked on the moon, and the golden age of classic cars began. Indeed, it was during this period when car manufacturers began to produce some of the most iconic vehicles of all time –– and when the American muscle car became a fixture in the collective conscious. Many car enthusiasts still love classic vehicles from this decade, which is why we're going to share a few of our favorites. Here are our picks for the best cars of the 60s: 
Lincoln Continental
By the time 1961 rolled around, Lincoln had already been producing Continentals for twenty years. In the 1960s, though, Lincoln introduced the fourth generation. The car is stunning for a number of reasons –– from its sleek design to its unique center-opening "suicide" doors. It also holds the ignominious distinction as the car President Kennedy was assassinated in. 
Pontiac GTO
The Pontiac GTO is –– for many –– the first "true" muscle car. Designed by John DeLorean, the GTO was a powerful car that was stylish and widely available. It's no secret that its success inspired other manufacturers to follow Pontiac's lead. 
Chevy Corvette 
You couldn't really go wrong with any of the Corvettes built during the 1960s. Between the C2, The '63 Split-Window, and the 427 Stingray, Chevy was at the top of its game when it produced these beauties. 
Ford Thunderbird
The kopa steroider fourth generation of the Ford Thunderbird (1964-66) was actually the last model to be offered as a convertible (until the retro versions of the early 2000s). Not only was the Thunderbird a commercial success, but it's a quality vehicle with a great look. A perfect complement to Ford's other blockbuster from the 60s . . . 
Ford Mustang 
No conversation about great classic cars is complete without mentioning the Mustang. Few cars are as memorable –– or as groundbreaking –– as the Mustangs of the 1960s. Relatively cheap, plentiful, and eminently cool, Mustangs were everywhere in the '60s, and they're a wonderful choice for modern classic car owners as well. 
Porsche 911
Simply put, the Porsche 911 is a brilliantly made car. In fact, the car was so well designed that Porsche offered it for basically the entire 20th century with only minimal redesigns. One of the best German cars of all time, the Porsche 911 eclipsed 1 million total sales and is regularly featured on best car lists. Without this model, Porsche might not be the household name it is. 
Conclusion
Unfortunately, we don't have the time or space to talk about every great car from the 1960s –– and there are a lot of them. At Precision Restorations, we love classic cars as much as our customers do. We provide a number of restoration services, and we're happy to work with a wide variety of makes and models. Contact us or call us toll-free at 1-844-652-1966. Or you can email me directly at [email protected]