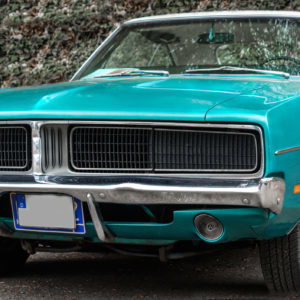 Everyone remembers their first classic car. After all, nothing can quite match the feeling of heading out on the road in a newly restored classic vehicle for the first time. There's just one problem: most new classic-car enthusiasts don't know which car they should buy. The sheer number of classic cars on the market can make it difficult to decide which of the many possible classic project cars is best for your situation. Today, we'll provide six classic car suggestions that are perfect for beginners. Check them out here:
Ford Mustang
Ford Mustangs from the 60s and 70s are some of the best cars to restore in general, so it's no surprise that they make this list also. There are several factors that make the Mustang an appealing choice for new car enthusiasts. First, Mustangs were popular, which means that a large number still exist in good condition today; it's also simple to find parts for Mustangs for this reason. Second, Mustangs were diverse. Ford rolled out dozens of different variants over the years. Third, Mustangs are, in general, affordable. (We'll revisit these three factors time and again throughout this list.)
Chevy El Camino
El Caminos from the mid 60s are excellent choices for new classic car enthusiasts. Not only are these eminently collectible cars, but it's also possible to find these coupes for reasonable prices online. Furthermore, you can always up the ante later on by installing a new engine if you're looking for more power.
MG MGB
It's no surprise that the British-made MGB caught on in the US. It's stylish, sleek, a blast to drive, and easy to maintain. Plus –– like the Mustang –– the MGB was extremely popular for virtually all of the 1960s and 70s. For inexperienced classic-car lovers, it's worth noting that you can find some amazing deals for MGB models of this era.   
Oldsmobile Cutlass
Looking for something a little different to start off your classic-car collection? Then it's hard to go wrong with an Oldsmobile Cutlass. Though not quite as ubiquitous as a few cars on this list, Cutlasses are nevertheless affordable and (comparatively) uncomplicated project cars.
Dodge Charger
Dodge Chargers from the late 60s-early 70s are solid picks for new classic car enthusiasts for virtually all of the same reasons that Ford Mustangs are. Chargers were (and are) popular, relatively cheap, iconic, and simple to find parts for. Selecting between the Dodge Charger and the Ford Mustang is more or less a matter of preference.
Chevy Nova
Two-door Chevy Novas from the 60s and 70s are superb starter classic car projects. With a straightforward design and plenty of collectors to support it, these cars have started to gain popularity in recent years. However, it's still possible to find some pretty cool Nova models for under $20,000.
A Word to Inexperienced Enthusiasts
No classic car project is easy. Some of the above choices are characterized as simple or straightforward in comparison to other classic-car projects. However, we can't stress enough that restoring and maintaining a classic car on your own –– with little or no experience –– is almost always a bad idea. These vehicles require a significant investment of time, money, and dedication. Unless you're absolutely certain you're ready to tackle a restoration project by yourself, it's a much better idea to contact a professional for assistance.
Learn More
At Precision Restorations we're happy to work with both seasoned car collectors and new enthusiasts. To learn more about getting started with a classic car project, contact us toll free at 1-844-652-1966 today, or email me directly here at [email protected]. We love talking about classic cars!