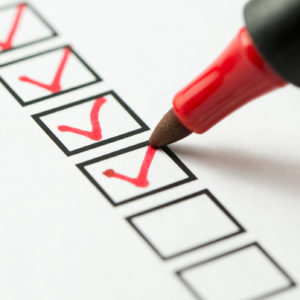 Choosing to restore a classic car is a big commitment. While classic car enthusiasts are typically very passionate about their vehicles, some may not quite understand everything that goes on during the classic car restoration process. As such, today we aim to provide a little more transparency on the subject. Whether you're planning on doing some DIY repairs yourself, or you're looking to partner with a dedicated restoration shop, this classic car restoration checklist will ensure your car receives all the service it needs to reach its full potential.
Set Clear Objectives
Before you begin the restoration process, you should have a clear idea of what you want to achieve from it. For instance, do you want to add new features to your classic car so that you can use it as a daily driver? Or are you more interested in creating a strict, factory-stock specific restoration? What you want from your classic car can (and should) inform how you go about restoring it. Taking time out now to answer these questions will make it easier for your to make important decisions during the restoration process. 
Source Your Parts
Once you've landed on a strategy, the next step is to source quality parts. Since classic cars are typically 40+ years old, almost all restorations require some replacement parts. Unfortunately, you're not likely to find such parts at your local auto parts store. Rather, it's key to source high-quality OEM and/or aftermarket parts –– depending Acheter Steroide En Ligne on your preference –– before you begin the restoration. Keep in mind that the quality of the parts will typically have a big impact on the overall quality of the restoration. What's more, using low-quality, worn, or otherwise unsuitable parts in a classic car restoration could prove problematic and may even pose a safety threat in some instances. That's why it's so vital to ensure all parts used in a classic car restoration are either high quality already, or have been refurbished accordingly to ensure their viability. (For reference, this practice is central methenolone enanthate for sale to our service here at Precision Restorations, but it is not always the case with other businesses.)
Cover All Bases
Restoring a classic car is a huge undertaking. Completing a classic car restoration from start to finish requires a diverse skillset and tons of specialized knowledge. Unfortunately, not every restoration shop or individual can address every aspect of the classic car restoration process. When restoring a car, it's important to choose a shop that has the expertise to manage your entire restoration. At Precision Restorations, for example, we have experts in all of the service areas you may require for a full restoration, including mechanical, interior, body work, paint, aftermarket upgrades, and more. Our experts can focus on granular repairs, replacements, and upgrades. Lastly, no two restoration projects are exactly alike. This is why partnering with professionals who truly understand every component of the restoration process can be so advantageous.
Sweat the Small Stuff
The difference between a shoddy restoration job and a perfect one often comes down to a set of small details. Yet, even small factors can have a big influence on a classic car's appearance, performance, and value. At Precision Restorations, we're proud to hold our team to the highest standards. We're perfectionists, and we don't cut corners –– ever. In order to help you get a better understanding of what a thorough restoration should look like, here's a long list of items we cover on a regular basis:
Mechanical
Full mechanical restoration of stock systems.

Complete system upgrades.

Stock mechanical system upgrades (i.e. suspension and brake systems).

Engine swaps (such as rebuilds or crate engine installations).

Fuel system restorations (includes fuel tank cleaning or relining).

Tune-ups and engine calibration.

Transmission rebuilds and upgrades.

Electrical system restoration or troubleshooting.

Complete A/C system installation.

Air ride system installation.
Body Work
Vehicle disassembly.

Part inspection and storage.

Remove the vehicle's paint and old body work manually or with media blaster.

Vehicle etched and primed to protect bare steel.

Rust is repaired and dents are removed from the body.

Floors are repaired or replaced as needed.

The vehicle is primed and then finished.

All panels are test fitted and adjusted.
Interior
Seat restoration or recover.

Custom seat covers.

Headliner replacement.

Center console restoration or replacement.

Custom consoles.

Sound system installation (optional).

Trunk compartment finish.

Interior painting or dying.

Carpet replacement.

Dash restoration.

Convertible top replacement.

Convertible top rear window replacement.

Convertible top frame restoration.
Paint
Etch, prime, and seal vehicle after stripping.

High build primer after body work.

Block and sand the entire vehicle.

Paint and clear vehicle includes all jambs, under hood, and under deck lid.

Sand and buff.

Undercoat vehicle.
Know When to Outsource
Some classic car enthusiasts may begin the classic car restoration process because they think it will be a fun diversion. However, as we've established, classic car restorations are comprehensive processes. While you may be able to complete certain aspects of a classic car restoration on your own, it's important to recognize when you need professional assistance. In fact, partnering with the right restoration shop is the best thing you can do to protect the safety, performance, and appearance of your classic vehicles. 
Contact the Pros
At Precision Restorations, we love classic cars as much as our customers do. We provide a number of restoration services, and we're happy to work with a wide variety of makes and models. If you're in the market for a classic car restoration, then contact us or call us toll-free at 1-844-503-8118. Or you can email me directly at [email protected].