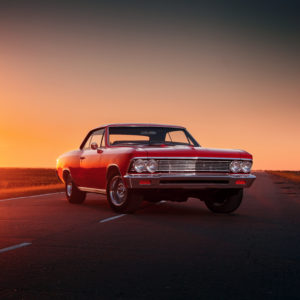 There's a certain magic to every car-restoration project. After all, seeing an old, worn-down car returned to its former glory is an incredible thing. Unfortunately for many classic-car lovers, the car restoration process itself can be as enigmatic as a well executed magic show. Except in this instance, what's going on behind the scenes could end up costing you big time. So if you've always wanted to know more about how classic cars are restored –– or you're just revving up an interest in classic cars –– this blog is for you. Here's a step-by-step look at how car restorations occur:
Making an Estimate
Some people might think that an estimate happens before a car-restoration project truly gets underway. That's really not the case, though. Indeed, serious restoration professionals prioritize a thorough inspection before making an estimate on how much a given restoration may cost. It's important to note here that forming a credible estimate takes time. Typically, our inspections will last four-to-five days, and we don't make estimates unless we're confident in them.
However, we always let our clients know that every restoration will present additional issues that can't be identified until we go through a project. An example of one very common, yet unidentifiable issue, is rust deterioration under the paint that cannot be detected until the car has been completely disassembled and the paint completely stripped to bare metal. Unforeseen added expenses like that are just a fact of the classic car restoration process. Still, it's important to find a shop you can trust to provide a detailed estimate and keep you posted on any developments. 
Vehicle Restoration
Once a shop inspects a car and delivers an acceptable estimate, it's time to get down to the nuts and bolts (literally) of the project. Of course no two restorations are exactly the same. Still, many classic cars require extensive work to reach their full potential. In the case of a complete overhaul, restoration professionals will address every aspect to a car's appearance and performance, including:
Bodywork

Paint-Job

Interior

Mechanical performance

Customization (optional)
Communication is key to the success of a restoration. Ideally, the customer should be informed of all decisions made in regard to their vehicle. Be wary of shops that aren't willing to keep you updated during the actual restoration process itself. (Plus, for a more in-depth look at classic car restorations, check out our eBook here.)
To Modify or Not to Modify
At some point, every classic car enthusiast has to choose how they want to restore a classic car. This can require some soul-searching. Traditionalists will argue that authenticity is the ultimate goal of a car restoration –– and only original parts and historically accurate additions should be used. Still, other classic-car enthusiasts love the combination of modern engines, accoutrements, and aftermarket parts with the body of a classic car. There's no right or wrong answer when it comes to restomods, pro touring, or OEM vs aftermarket parts. Instead, these choices are all about what you want from the project (and how much you're willing to spend!).
Next Steps
Once the car restoration process ends, the next step is up to you. Word to the wise, though: "flipping" classic cars is a tough prospect. Often, sentimental attachments to a car, or fluctuations in the market will make it difficult for a seller to find a willing buyer at their price. In short, don't expect to make a substantial pay-off after restoring a car. It's possible, but not as likely as people may think.
Learn More
Are you ready to make your car-restoration dream a reality? Then contact us toll free at 1-844-652-1966 today, or email me directly at [email protected]. We love talking about cars and can't wait to help you with your next project!