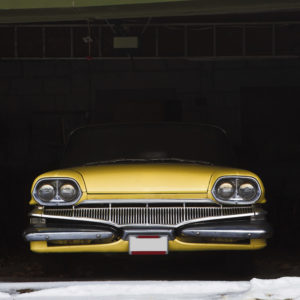 When most people catch the classic-car bug they don't restore one vehicle and then call it a day. Instead, those who are passionate about classic cars want to own and collect a number of amazing vintage vehicles. And if you've got the capital and the time, there's nothing more enjoyable than assembling a garage full of beautiful retro cars. With that in mind, today we're going to take a look at some of the most collectible classic cars on the market. So whether you're just starting to get interested in class cars, or you've been restoring them for years, you'll find a little something for everyone below:
"Starter" Cars
How to best start a classic car collection? Easy. Begin with a Dodge Charger (1969), throw in a Chevy Camaro, and finish up with a Ford Mustang and you've already got a pretty potent stable shaping up. Of course, these cars are some of the most iconic of their era, and naturally still hold a great deal of appeal for classic-car enthusiasts. The good news is that many of the most popular classic cars now were also smash hits back in the day, which is why they're some of the best cars to restore. At the end of the day, no classic car collection is complete without a few American muscle cars.
Next-Step Cars
Perhaps you already own a few classic cars and are ready for something a bit off the beaten track. If that's the case, then you might want to consider some classic car alternatives like the British-made Shelby Cobra or Jaguar E-Series. These vehicles look great, but will be more difficult to manage than their more prevalent American counterparts. Alternatively, the Pontiac Firebird and Chevy Corvette are also great classic car choices that can fly under-the-radar from time to time.
The Deep Cuts
All classic cars require some level of investment. However, there's a certain strata of classic car that goes beyond what the average person can afford. The cars in this section are incredibly rare and will almost certainly fetch a price north of a million dollars if one were to go up for auction. Still, if you've got the capital (and the opportunity) the 1965 Shelby Daytona Cobra Coupe, 1970 Plymouth Hemi Superbird, and the 1970 Dodge Coronet Hemi Convertible are some of the rarest and most sought after classic cars on the planet. Considering that so few of these models were made, you'll have to be ready to splash the cash if you want one. Lastly, the 1962 Ferrari 250 GTO can pretty comfortably claim the title as the "Holy Grail" of classic cars. One sold for $48 million back in August.
Learn More
Do you have a classic car in need of a restoration? If so you contact us toll free at 1-844-652-1966 today, or email me directly at [email protected]. We have the experience, tools, and commitment to handle any classic car restoration project.