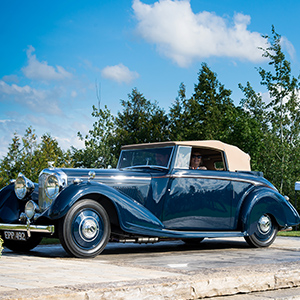 In your virtual journey around the web learning about car restoration options and approaches – especially if you are planning to buy one from a collector, dealer or at auction — you have likely come across (or soon will) the term "concours restoration." And you are likely confused as to just what the heck it actually means!
In our view, the true and only meaning of concours restoration is in reference to a classic car that has been restored as closely as possible to its original, period-correct conditions. This is the same view endorsed by noted classic car expert Mike Gulett, whose excellent blog MyCarQuest.com is a must-read for new and experienced car enthusiasts alike. We're big fans.
"As Closely as Possible"
The qualifier "as closely as possible" in our definition is important — and honest — because sometimes, it is just not possible to restore a classic car exactly to its original specifications; often because certain vintage parts are very difficult to find, or simply may not be available. In such cases, finding an alternative that most closely matches the original part (visually and/or performance-wise) is sufficient, or it may be viable to restore an original part or fabricate one from scratch (more on this below).
Driver Quality Restorations and Restomods
With this being said, concours restoration differs from two other popular restoration approaches that are worth highlighting, since some sellers and auctioneers tend to play somewhat fast and loose with their marketing terminology. These two approaches are driver quality restorations, and restomods.
Driver quality restoration is about restoring a car so that it can be safely driven and enjoyed. Because the goal is not to achieve period-correct conditions, there are more options, and restoration costs (relatively speaking) are typically lower. Of course, careful attention is paid to preserving original esthetic values and performance. In other words: a driver quality restoration is still a restoration.
Restomods are also restorations, but they embrace new technologies that in some ways re-invent classic cars for a modern landscape. The next time you are on the freeway and a classic restored car from the 1950s that was not originally designed to crack 50mph blows by you at 70mph, be aware that you are in the glorious presence (and, alas, the rear-view mirror) of a restomod.
Our Approach to Concours Restorations
At Precision Restorations, concours restoration is not a marketing term – it is an honest designation. That is why whenever we are trusted by our customer to "turn back the clock" and bring their car as close to period-correct conditions as possible, we start with a total disassembly during the frame-off process to identify what is required and, just as importantly, if there are any problems we can proactively identify and address.
Then, through our extensive international network of trusted and reputable suppliers, we track down hard-to-find parts — including items like emblems and trim pieces – with a speed and success rate that would impress Sherlock Holmes. And in the event that we cannot find exactly what is required, we have the fabrication capacity, talent and expertise to restore original parts, or re-build them from scratch. In other words: we take the concept of concours restoration as serious – if not more seriously – than our customers!
Get the Help You Need at Precision Restorations
To connect with a team of experts that devoted classic car owners like you have trusted for years, contact us toll free at 1-844-652-1966 today, or email me directly at [email protected]. We love talking about cars and can't wait to help you with your next project – whether it is a concours restoration, or any other vision that you want us to bring to life!