Not very many people think "muscle car" when they hear the word "Buick." Long-known as the quintessential "grandma car," Buicks have been around for more than a hundred and twenty years due, in large part, to their enduringly stylish interiors and ever-comfy ride. But back in the '80s, Buick introduced a car that was built for anyone but dear ol' Nana. Here's a quick history lesson on the Buick Grand National, not Buick's first "performance standout," but certainly one of its best:                                                              
The Buick Grand National's Unlikely Link to the Boy Scouts 
More than a decade before the Buick Grand National made its debut as a standalone model in 1984, a Buick engineer in Michigan started a program for local Boy Scouts. His hope was to expose young men to the world of automotive engineering. Their first project: turbocharging a 3.8 L V6 engine and slapping it into a Buick Skylark body so the kids could see the effects of forced induction. Little did engineer Ken Baker know that this would be the starting point for several Buick legacies.
Buick Grand National's Evolution and Official Debut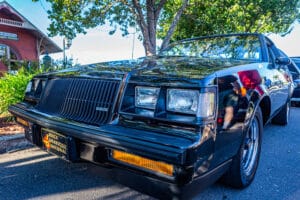 In 1976, Buick placed Baker's souped-up project engine into an Indy 500 pace car, enabling it to outperform actual Nascar competitors, and recognition grew from there. By 1978, the engine had been added as an option for the Buick Regal, making the '78 Regal Sport Coupe one of only five turbocharged cars available on the market at that time (and three of those were imports). Although the "Grand National" moniker had been introduced as a visual-only trim option for 1982 Regals and LaSabres, it wasn't until 1984 that the two finally merged to create the turbocharged, sleek-bodied "Buick Grand National" standalone model. Solely available in black, the aesthetics of the '84 Grand National were a marked move away from the physical mediocrity of previous base model Regals. And as for performance, the turbocharged 3.8L V6 engine with sequential fuel injection resulted in enhanced horsepower and torque, far surpassing that of rival Camaros and placing Buick Grand Nationals squarely in competition with the hallowed Corvette. Buick only built 2,000 Grand Nationals in 1984, and just 2,102 in 1985, sparking a frenzied demand that only continues to grow. Just last year, the last Buick Grand National ever made sold for an astounding $550,000!
Unfortunately, new models of the Buick Grand National culminated with the 1987 GNX (for "Grand National Experiment"). It was a showstopper, though, and ended the Grand National run with a certified bang. Working with McLaren and American Specialty Cars, Buick developed modified components for the GNX, including a Garrett turbocharger, a revised transmission, updated suspension and less-restrictive dual exhaust, which allowed the '87 GNX to go 0 to 60 mph in 4.7 seconds and made it the fastest car in production that year. With plush interior upgrades, front fenders air vents and composite flares added to the mix — along with a complimentary jacket thrown in at purchase — the GNX was a one-of-a-kind showpiece for buyers looking to make a statement.
Want to Learn More?
Our goal here at Precision Car Restoration is to celebrate and restore classic cars. To learn more about our restoration services and how we can upgrade your car or return it to its original glory, please contact our team of experts.