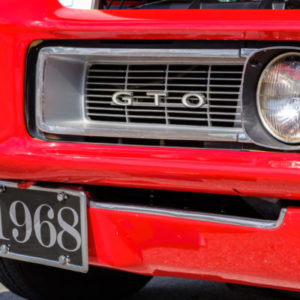 At Precision Restorations, we've compiled a number of lists ranking our favorite classic cars over the years. We've covered muscle cars, British cars, cars from the 60s, cars from the 70s –– even cars we think will be considered classics in the future. However, there are so many great vehicles from the past that, inevitably, a few quality cars get overlooked. That's why today we're going to review some of the most underrated classic cars of all time. Check them out here: 
1960s Pontiac GTO
Can the GTO really be considered underrated? We think so! Despite the fact that many classic-car enthusiasts do greatly appreciate GTOs, they have been slightly underrated over the years. Of course, it's worth noting the last Pontiac cars were built over a decade ago. Pontiac's demise may have something to do with the GTO's (relatively) low-profile. (At least when compared to similar Chevys and Fords of the era.) At the end of the day, though, the GTO helped define our perception of a muscle car. Plus, the '64 Tempest was an absolute burner in its own right. 
Non-911 Porsches
Some cars are so popular, so successful, and so loved that they completely overshadow other similar cars. Such is the case with Porsche. The 911 was first introduced in 1963 and it was, and remains, an iconic piece of engineering. Still, Porsche continued to make very slick variants on the 911, including the 914, the 924, the 928, and stretching into the 1980s, the 944. Post-911 Porsches are often quality cars that can be had for a bargain if you can find them. 
Triumph TR6
When people think of "Triumph" they most likely envision a classic motorcycle. Nevertheless, before the eventual closing of the Triumph Motor Company in 1981, they produced a stunning classic car in the form of the TR6. First debuted in 1969, TR6s look and feel like they ought to be considered some of the greatest cars ever. Regardless, they're now readily available for many collectors in America and typically represent a great value purchase. 
1975-78 Datsun 280Z
The Datsun Z series boasted some excellent classic cars that American drivers loved. For our fourth pick, we've gone with the 280Z that ran from 1975-78. It's very similar to its predecessor –– the 240Z, but includes impact bumpers and extra safety features, which diminished its top speed somewhat. As such, it's often underrated on the market and can sometimes be picked up by savvy collectors for less than it's really worth. 
Mercury Cougar
The "little brother" of the Ford Mustang, the Mercury Cougar is a tremendous looking car –– in large part because its design almost perfectly aligns with the Mustang. So if you're looking for a great car that's similar to the Mustang, this is it. 
Contact the Pros
Ultimately, the value of a classic car depends on a number of variables –– one of which is personal preference. Classic cars go in and out of style, but any of the five listed above could be great purchases for classic car enthusiasts. 
Our team at Precision Restorations is passionate about classic cars, and we strive to provide high-quality service in restoring, retooling, and refurbishing them. If you're looking to give your classic ride a performance boost, then know that we also feature restomod services as well.  Contact us toll free at 1-844-701-6396 today, or email me directly at [email protected]. We love talking about restoring classic cars!