The History Behind Chevy's 3rd Generation Camaro
Six generations of Chevrolet Camaros have been produced since the iconic vehicle's introduction to the market in late 1966 for the 1967 model year; perhaps one of the most notable, yet sadly underrated, models was the 3rd Generation Camaro!                                                      
Today, we're going on a journey through the complete history of the 3rd Generation Chevy Camaro. This beauty was born to compete with the Ford Mustang, and let me tell you – it became quite the sensation! From 1982 to 1992, the 3rd Generation Camaro graced the roads of America, making a name for itself as one of the most iconic muscle cars in our nation's history.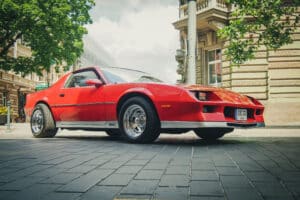 Right out of the gate, the 3rd Gen Camaro won the hearts of many and even snagged the Motor Trend Car of the Year title in its debut year. Talk about an impressive start! This generation's model introduced some nifty features like modern fuel injection, Turbo-Hydramatic 700R4 transmissions, and a range of wheel sizes. And, let's not forget the hatchback bodies and the long-awaited return of the convertible roof, which fans had sorely missed in the previous model!
But, there's more! The 3rd Generation Camaro brought us the B4C Special Service Package, affectionately known as the Police Package. This bad boy offered a Z/28 drivetrain and was primarily available to our hardworking law enforcement friends. Though a few lucky civilians managed to get their hands on one, the B4C was like a secret weapon for the men and women in blue.
In 1992, Chevy celebrated the 25th anniversary of the Camaro with a special "Heritage Package." This limited edition gave the 1992 model a stylish striped hood and deck, paying homage to the legendary design of the first-generation Camaro from the '60s. A real blast from the past!
Sadly, all good things must come to an end. In late 1992, the last 3rd Generation Camaro rolled off the production line, leaving behind an unforgettable legacy. This model was a departure from the European-inspired grand touring look, boasting an aggressive front-end styling that screamed "American muscle!" And boy, did it capture the hearts of enthusiasts. Over its 10-year reign, a whopping 1,184,433 3rd Generation Camaros were produced. 
Learn More Now
If you're one of the lucky owners of a classic 3rd Gen Camaro, fear not! Precision Restoration is here to keep your beauty in tip-top shape. Whether you're dreaming of cruising around town or restoring it to pristine condition for a jaw-dropping showpiece, our team of automotive restorers is ready to lend a helping hand. Reach out to Precision Car Restoration for all your Camaro needs, and let's keep the spirit of this American classic alive!