A so-called "square body" truck might seem a bit redundant, like calling a wheel "round" or the sun "hot." But step back in time, and you'll realize that trucks weren't always synonymous with box-like dimensions. On the contrary, prior to the introduction of the Chevy "Square Body" in 1973, most trucks boasted a decidedly "curvier" silhouette. It really wasn't until the release of the third generation of Chevrolet and GMC C/K pickups that the iconic squared-off shape and versatility that have become symbolic of today's modern trucks were born. Let's take a look at the Chevy Square Body truck and how it became an American icon:                                                             
The Chevy Square Body was Initially Called the "Rounded Line"
No joke. Apparently, General Motors believed the new rounded-edge design of their trucks' windows and lights trumped the otherwise boxy appearance of their cabs and beds, choosing to bestow the third generation of its Chevrolet and GMC pickups (spanning from 1973 through 1987) with the "Rounded Line" moniker. Unable to overlook the incongruity of such a label, however, the public rechristened this new breed of truck the "Chevy Square Body," cherishing it not for its softened corners but rather for its wide, bulky girth and generally boxy proportions. With several other added features, the Chevy Square Body would ultimately become the epitome of American pickups — useful and stylish, a versatile workhorse that could take you from farm to theatre without causing a scene!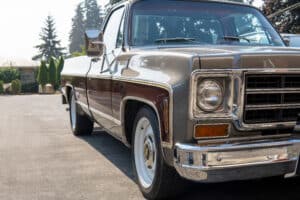 The Features That Changed Pickups Forever
In addition to a new facade, Chevy Square Body models paid special attention to sophisticated features and options that would elevate the truck driving (and riding) experience. Various components were tested via computerized simulations prior to the model's debut manufacture, which resulted in trucks with better on-road performance and a smoother ride. Cabins were made larger with more space for passengers and gear. An extended wheelbase contributed to greater stability, and extensive predesign research into aerodynamics resulted in greater fuel efficiency and a reduction in interior noise. Even small details like a glass-embedded antenna, repositioned windshield wipers, and streamlined dash played a significant role in elevating the pickup from a basic piece of equipment to a comfortable vehicle suitable for transporting the entire family. And this new breed of truck wasn't just a passing model; it was here to stay.
From Novel to Classic
Today, more Americans own trucks than any other type of vehicle. It's thanks, in large part, to the combined style and utility the Chevy Square Body introduced to the world 50 years ago. Indeed, here at Precision Car Restoration, we're seeing more and more car enthusiasts looking back to the Chevy Square Body. They're turning this unique trendsetter into a true American classic by snatching them up and restoring or modifying them in homage to their original spirit of American grit. The large volume of inventory available, coupled with the fact that parts are easy to come by (as well as easy to modify), make the Chevy Square Body truck a good deal for collectors wanting a piece of American history.
Learn More Now
To learn more about Chevy Square Bodies, including their value in today's classic car market, please contact Precision Car Restoration.