The fabled six pack. Even die hard Mopar enthusiasts will agree, the 440 six-pack is as much of a legend for Chrysler as the Hemi. Chrysler was doing pretty good in the late sixties, even their budget line valiant and dart vehicles were difficult to keep in stock on dealer lots. Things were going very well for Chrysler and its car lines in 1969, very well. Still the engineers felt they had to do something to earn their pay, what they come up with was essentially and aftermarket add on for the 440 Magnum. The largest cubic engine that Chrysler ever produced performed well with a four barrel carburetor, was strong and virtually bullet proof in its performance but with the proper equipment it would become a monster. Engineering began looking at previous tri-power set ups, such as those offered by Pontiac in years prior, and worked with Edelbrock and Holley to make a match made in heaven for Mopar enthusiasts, and a Hell on earth for the competition.
A custom aluminum high rise intake was developed by the engineers at Chrysler and the engineers at Edelbrock and Working with Holley a trio of carburetors were mounted with the center carburetor being the "feed" carburetor for the engine. When the accelerator was fully depressed the fore and aft carburetors would open, similar to secondary plates in a four barrel, and allowed over 1200 C.F.M. of air, mixed with the proper ratio of fuel, to enter the engine.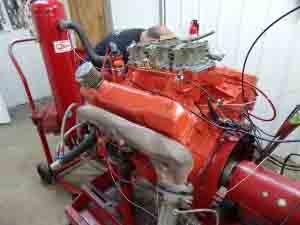 The roar heard from the engine was unlike any other Chrysler engine to date, or since, under full power. This set up brought the overall horsepower rating of the 440 engine to 390, with a whopping 490 pound feet of torque this engine could pull the largest of the B bodied cars in the Chrysler stable. Mid-year 1969 the engine was offered, in limited vehicles packages. Only the Road Runner and Super Bee would see options for the 440 6 barrel and it was the Bee that deserves accolades for being the first car to sport the 440 six pack stickers. The engine was a huge success, leaving the first models as stripped down bad ass racers that owned the tracks where they were raced. These weren't luxury cars, with pinned fiberglass hoods, steel wheels with chrome lug nuts clad in meaty Goodyear G70-15 tires these cars were built to go fast, even if you were just going to the grocery store.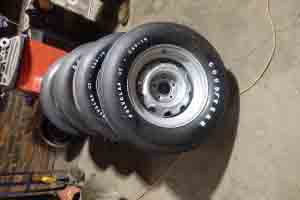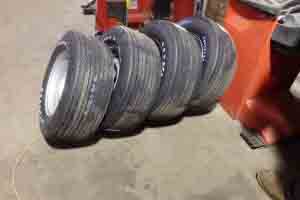 The 440 six pack was slightly different than the other 440 engines up to this point. The engineering team chrome flashed the valve guides to increase wear resistance and improve high speeds performance, to follow this pattern of a higher revving engine Hemi valve springs were used and the camshaft was milled slightly different. Molly rings were used to seal the combustion chamber and ignition came from a dual point distributor. This was truly an engine designed for performance, real, hot rod performance. Prior to these revisions the base 440 did well enough, it built nice horsepower for the racers and torque numbers made the engine a very popular choice for trucks and motor homes. This engine though, the 440 six pack, this was built to be loud and intimidating and had all the right stuff to back it up. With numbers near the performance of the Hemi, and at about a third of the price, sales shot through the roof, far exceeding anyone's expectations, even Edelbrock could not keep up with the demand. Due to limitations in production, partially based on the ability for Edelbrock to manufacture the intake manifold in large enough numbers, production was limited to 3,384 units. This should, in no way, reflect poorly on Edelbrock, no one knew that demand was going to be so high for something offered mid-year.
As the model year ended Chrysler definitely knew they were onto something and when the '70 model year vehicles were introduced the 440 six pack was featured prominently in numerous vehicles, one being the Coronet R/T. Engineering had also packed a few new things in the engine as well and, as a result, brought about the first engine that Mopar had built that was balanced externally. With the newer, heavier connecting rods for the engine the crankshaft had to be balanced externally. The intake manifold was now cast iron rather than aluminum. Aside from this and a better performing heat control valve in the right exhaust manifiold, the engine was virtually unchanged. Sadly, Chrysler only offered the 440 six pack for one more year and by 1972 this particular configuration of the 440 had passed on leaving us with a continued decline in engine performance that would last for another couple of decades.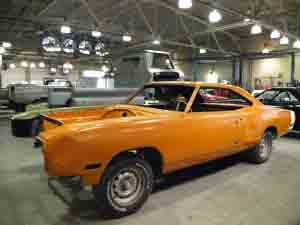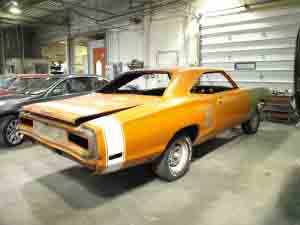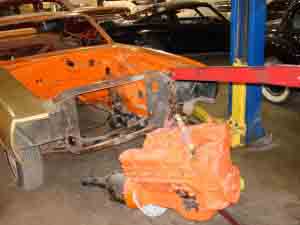 Precision Restorations is very pleased to be a part of the build on a 1970 Coronet R/T currently in our shop. Along with the famed 440 Six pack this client is fortunate enough to have one of only a few teamed with a four speed and built here in St. Louis.
This Coronet R/T also has the Dana rear end that will harness all the power from the engine and put it on the ground. With the only upgrade to this vehicle being an electronic ignition system this will be a factory fresh restoration when complete.
The owner of this Coronet R/T plans to drive this car but also plans to do with it what it was intended to do, race. Thanks to our friends at allpar.com, a site directed towards all things Mopar, we have some numbers that reflect the ability of this car. Many of you may be familiar with Ronnie Sox, if you aren't you need to be.
Ronnie was the factory driver for Chrysler for a number of years along with owning his own race team. Mr. Sox is a tremendous character and a highly revered driver. Having been granted the opportunity to test these 440 six pack cars he was able to put down a sub 13 second run with a 12.98 in a '69 Roadrunner. Following that up with a run in a 1970 Roadrunner he set a time of 13.46 in the quarter mile.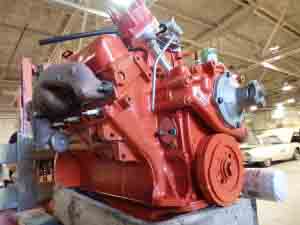 I feel comfortable that this Coronet R/T can match these times consistently, especially with an engine putting out over 400 horsepower and over 500 pound feet of torque on a stock rebuild. Our only wish from this customer is loads of videos and photos when he launches this beauty down the track.
Look for additional posts on this car and what this customer has done to preserve and restore this car in future posts.