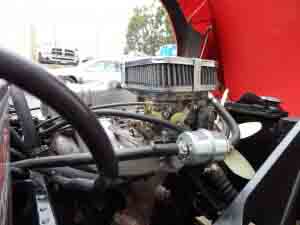 Designed by Triumphs favorite designer Giovanni Michelotti and named after the famed Battle of Britain fighter, Triumph answered the competition being felt from Autin-Healey and M-G with the Spitfire. While a beautiful design the early models were underpowered but still fun to drive.
Today we deliver back to our customer a 1974 Triumph Spitfire, this was the second year of some power upgrades that Triumph made to compete. With a new 1500 cc engine this Spitfire model was a great road car that accelerated and handled wonderfully. The customer, working on a budget, chose to start with the mechanics of the vehicle. Precision Restorations rebuilt the suspension and brake system, cleaned, painted and undercoated the undercarriage of the vehicle and the suspension components were cleaned and refinished as well. Precision Restoration also removed, resealed, detailed and refinished the engine. With the engine removed the firewall was also cleaned, sanded and refinished. The engine was then tuned for optimal performance, the basics such as spark plugs, wires and distributor maintenance was taken care of and new fuel lines, pump and filter were installed. The carburetor was then adjusted with the final tweaks being performed during numerous road tests to ensure proper performance.
These Triumph Spitfires are really fun cars to own and drive and are relatively inexpensive to maintain and restore. We look forward to beginning on this customers next step, body and interior.
Thank you Robert!!! We really enjoyed working with you on your project.