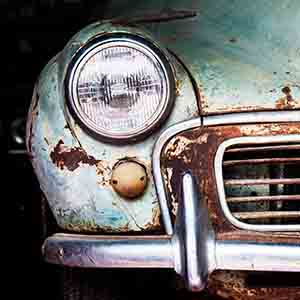 To suggest that your love of classic cars in general – and your own classic car specifically – is a mere "hobby" is a major understatement, and maybe even an insult as well!
Indeed, only people who have experienced (and perhaps painstakingly restored) a classic car understand that ownership isn't just a pastime: it's a passion. And that also means that protecting your beloved classic car from rust is a top priority.
Given that "rust never sleeps", here are 5 practical tips to keep your envy-inspiring dream machine from, slowly but surely, turning into a rust bucket: 
1. Pay careful attention to underside and wheel areas.
Due to the accumulation of mud and road salt, rust is likely to target your classic car's underside and wheel areas. As such, pay special attention to these spots. Be careful when using a high-pressure washer, as these can remove the protective underseal. We recommend using a concentrated spray from a garden hose to dislodge dirt and salt from the sill ends, and from within the wheel arch.
2. Moisture is the enemy.
The real driving force (no pun intended!) behind rust is moisture, which can get trapped in cavities and crevices such as sills, chassis, doors, and so on. Because these areas are so small and inaccessible, it's virtually impossible to use protective paint. However, a good alternative is oil-based fluids or rust-resistant wax. Keep in mind that this has to be applied very carefully, and using a high-pressure spray gun (or similar mechanism) is a must. Most classic car owners don't have this kind of equipment on hand, or the experience and knowledge required to do the job right. As such, a classic car restoration specialist is a wise idea and a smart investment.
3. Don't send your classic car into hibernation.
Some classic car owners believe (or are advised) to keep their car well out of Old Man Winter's way, since as we all know, the combination of road salt, sleet, freezing rain, ice and snow are a recipe for rust. Ironically however, leaving your car idle over the winter could be enabling rust on brake disks and other components. We recommend that you start your car at least once a month, and in dry conditions take it for a short drive until the engine warms up to full operating temperature. It's also a good idea to use the brakes frequently, and — believe it or not – you should also blast the air conditioner, as this reduces leaking (and hence moisture) from the pressure seals.  
4. Proper storage is vital.
Naturally, you don't have to be reminded that properly storing your classic car is important. In fact, you're probably fed up explaining this truth to your family members, friends and neighbors who, alas, may not quite understand what the big deal is (don't hold it against them – some people "get" classic car ownership, and some people simply do not!). However, even though you know all about storage, some best practice reminders won't hurt:
Make sure conditions are dry and airy – brick garages or wooden barns are usually sufficient.

Consider using an inflatable plastic tent, and use fans to keep air moving (remember, moisture is the enemy!).

Disconnect your car's battery, and crack the windows open a little so that the interior is airy and stays dry.
5. Don't DIY – team up with a classic car restoration specialist.
The smartest and best way you can keep your classic car looking and running beautifully for years to come is by partnering with a classic car restoration specialist. You'll get the expert advice you need to keep rust and other threats at bay. And just as importantly, you can be assured that you'll be supported by a team that cares as much about classic cars as you do.
Learn More
To learn more and connect with a team you know and trust, contact Precision Restorations today. We LOVE talking about classic cars, and we can't wait to help you with your next project!