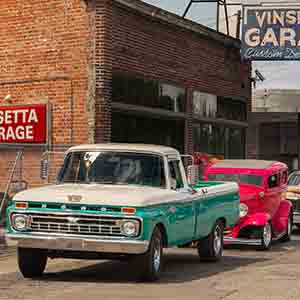 If you're new to the world of car restoration (welcome aboard!), or if you're a seasoned car restoration veteran who regularly attends shows (so do I – make sure you say hello!), the basic fact remains that finding the right car restoration shop is a top priority.
Indeed, whether you need some timely and honest advice from experts, or comprehensive hands-on services and solutions, choosing the right car restoration shop makes all the difference to your experience and expense. Simply put, the ideal partner will be rewarding, while the wrong one will be regrettable.
Yet with this in mind, finding the right car restoration shop can be a challenge. Some shops notoriously over-promise, under-deliver and aren't worried about their reputations or building a loyal community of customers. Bottom line, all they care about is making money.
Fortunately, you can avoid these shifty operations by learning exactly what to look for in a car restoration shop. Distinguish legitimate car restoration shops that are worthy of your patronage and support, from those that you should definitely avoid if you value your money, time, vehicle…and sanity! Here is what I suggest you focus on when exploring, evaluating, and ultimately choosing the right car restoration shop for your current and future needs:
Make sure they specialize in car restoration.
I can't emphasize this enough, because it's a major problem in the marketplace: many body shops advertise themselves as restoration specialists – and that is not the case! As noted by Hemming Motor News: "Restoration shops are not body shops, and body shops are not restoration shops."
As such, make sure you choose a partner that has the in-house expertise and advanced equipment you need. If they don't, then you can conclude that they aren't a car restoration shop at all – and aren't worth your consideration, let alone your business and loyalty.
Demand nothing less than a personal and comprehensive design consultation.
If you come across a car restoration shop that refuses to provide you with a personalized and comprehensive design consultation, then drive on. They won't satisfy your needs, because they're not even interested in discovering what they are in the first place!
The right car restoration partner will take pride in spending quality time with you to understand the full picture: your needs, goals, aspirations, and concerns. Based on this information, they'll provide you with options and recommendations, and empower you to make a decision that is best for YOU – not them.
Get a comprehensive cost estimate.
One of the easiest ways to spot an unprofessional and risky car restoration shop, is if they're reluctant – or just refuse – to provide you with a comprehensive cost estimate. Typically, these types of operations say things like "we can't give you an estimate until we start the work." Or, they provide you with a range that is so large (e.g. "somewhere between $1500 and $7500), that the estimate is meaningless.
The right car restoration shop will provide you with a comprehensive, robust cost estimate that incorporates input from all members of their technical team. You can then make an informed decision on if and how to proceed. For example, you may decide to do some restoration work now, and some in the future. Or it may be advantageous (cost-wise as well as convenience) to have more work done now vs. spreading things out.
They should be obsessed with quality.
Do you know how real estate professionals say that the three most important things in selling or buying a home are location, location and location? Well when it comes to car restoration, specialists agree that the three most important things are quality, quality and quality.
As such, ensure that your car restoration shop never takes short-cuts or compromises on quality – because that's NOT in your best interest. There must be a dedicated quality assurance process in place, and you should get clear jargon-free answers to questions about quality. If that's not the case, then save yourself a great deal of money and frustration by crossing them off your list. They don't deserve your business.
They should LOVE talking about car restoration.
Last but certainly not least: no matter how busy the shop may be or how popular they are (and you should of course be able to read testimonials to verify their reputation), you should never feel intimidated about asking ANY question about car restoration; from simple maintenance tips, to complex inquiries about systems and materials. In other words: the right car restoration company is one that loves classic cars as much as you do — or possibly even more!
Learn More
To connect with a team of restoration experts that you can trust, contact Precision Restorations toll free at 1-844-652-1966 today, or email me directly at [email protected]. I would be happy to help you with your next project!