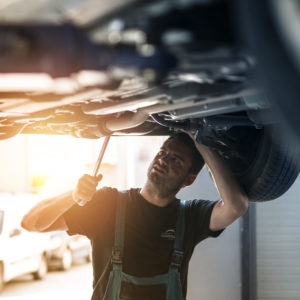 Picking the right shop to restore your classic car is a big decision. In fact, it's almost as important as deciding which car to buy in the first place. When done well, a classic car restoration will return a classic vehicle to its former glory, and the final product will delight everyone involved in the process. But when a project goes south, it can end up costing a classic car enthusiast a hefty sum to amend. It's crucial for classic car owners to partner with classic car restoration shops they can trust. Fortunately, all of the best classic car restoration shops have these six things in common:
They Specialize in Restoration
This may sound obvious, but the best places to get a car restored should specialize in the restoration process. There are plenty of solid auto shops out there, but not all of them deal with classic cars on a daily basis. Make sure the professionals you partner with have experience dealing with vehicles and projects like yours.  
They Communicate Effectively
It's an understatement to say that classic cars are precious commodities. It's natural for car owners to be concerned about their car –– particularly if they've never had it restored before. Thankfully, the best classic car restoration professionals are also great communicators. They should let you know how they plan on restoring your car and they should also update you accordingly.
They Set Fair Prices
Some auto shops try to take advantage of their customers and overcharge for parts and services. While classic car restorations can be expensive, trustworthy classic car restoration shops will still charge fair prices. It's worth noting that sometimes restoration projects end up costing more than initially projected. Great classic car pros will have good reasons for making those sorts of decisions, and they'll also be transparent about their process and charges.
They're Flexible
Interior work, exterior work, customized paint-jobs, full restoration, resto-mod updates –– quality shops will be able to handle a wide variety of different preferences and needs. Remember, though no two classic car projects are exactly the same, capable pros will know how to produce great results regardless.
They Do Great Work
Of course excellent car restoration pros will deliver the goods. The bad news here is that every shop will say they offer the highest quality service. In order to find a shop that really goes above and beyond, make sure to read their reviews and testimonials.
They Share Your Enthusiasm
Perhaps the easiest way to tell if a classic car restoration shop will prove a good fit is to talk with the people working there. Professionals who love classic cars can't help but talk to others about them, and you'll be able to tell if they share your enthusiasm for the project. You can't fake a genuine passion for car restoration!
Learn More
Are you ready to make your car-restoration dream a reality? Then contact us toll free at 1-844-652-1966 today, or email me directly at [email protected]. We love talking about cars and can't wait to help you with your next project!