It's road trip season and we have some stops in mind for you! The U.S. is home to many car museums showcasing automobiles from the classics to one-of-a-kind wonders. Here's our list of car museums to visit this summer!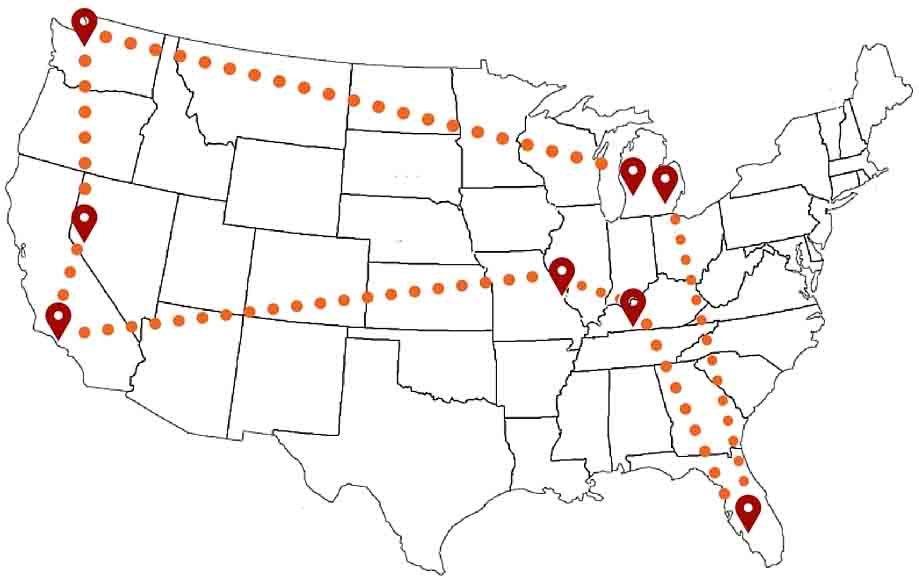 1. The National Automobile Museum – Reno, NV
The National Automobile Museum features the life collection of Bill Harrah. Frequently ranked among the best auto museums in the world, the National Automobile Museum showcases more than 200 cars ranging from timeless classics to one-of-a-kind, rare collectibles. Rotating exhibits feature guest collections while highlights of standing exhibits include the 1949 Mercury driven by James Dean in Rebel Without A Cause.
2. The Henry Ford Museum – Deerfield Village, MI
This 12-acre car museum began with Henry Ford's personal collection of artifacts. Not only can visitors can see early versions of the Model T, but other historic automobiles including the bus on which Rosa Parks was arrested and the presidential limousine that John F. Kennedy was riding in when assassinated. While you're there, take a factory tour at the Ford Rouge!
3. Muscle Car City Museum – Punta Gorda, FL
Muscle Car City Museum has 99,000 square feet of space showcasing vintage cars from the 1950s to 1970s. The museum has at least one Corvette from each year between 1954 and 1975 and several from each series from 1975 to present. You can even meet the "Museum Mechanic" and watch a restoration expert work on one of the museum cars.
4. Petersen Automotive Museum – Los Angeles, CA
Formerly a department store, the Peterson Automotive Museum has three floors, each dedicated to a different theme: history, industry and artistry. Cars are grouped together by time period and displayed in "streetscape" scenes fitting the era. A popular exhibit featuring automobiles in movies displays the Batmobile, Furious 7 Charger, the Back to the Future Delorean and more.
5. National Corvette Museum – Bowling Green, KY
At the National Corevette Museum, full-scale period dioramas showcase Corvette models from classic to current. While you're there, schedule a plant tour and check out the process in action.
6. America's Car Museum – Tacoma, WA
Most of the cars on display at America's Car Museum were donated by the Harold LeMay family. Even if vehicles are not on display with an exhibit, ACM utilizes open storage allowing visitors to see the majority of their vehicle collection. Want to see more? Visit the nearby LeMay Family Collection Foundation to view the remaining cars managed by the LeMay family.
7. Classic Car Club of America Museum – Hickory Corners, MI
Displaying only classic cars built between 1925 and 1948, the Classic Car Club of America Museum is one of few museums whose single focus is classic cars. Located in rural Michigan, the museum sits on 90 acres that include a wayside train station, 1930's service station, storage barns and a restored diner.
What car museums have you visited? Tell us in the comments which national and international car museums you think are worth a road trip – or flight!