The quarter panels for the Roadmaster are repaired and smoothed out from the rust damage.
The Roadmaster is getting masked and ready to go into the paint booth for priming and paint.
The bumper and body for the Buick is painted and ready to be sanded, buffed and reassembled.
The Roadmaster is in reassembly today.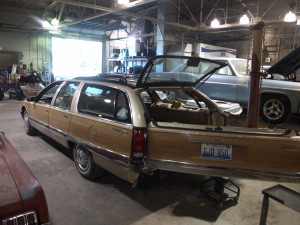 The interior for the Roadmaster is disassembled and ready for restoration.
The Buick is on the mechanics rack to wrap up the small amount of mechanical restoration that we have, while the interior tech is finishing up the new seat covers.