Dave has been working hard a getting all the mechanical work done for this stage of the restoration on the Lincoln.
Some of the things that have been completed are: New radiator, new hoses, new belts, new distributor, new exhaust system, new shocks.  This is only just a portion keep watching for more pictures and updates.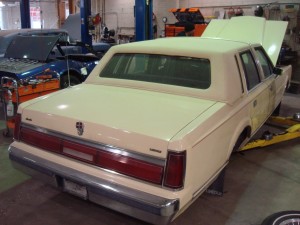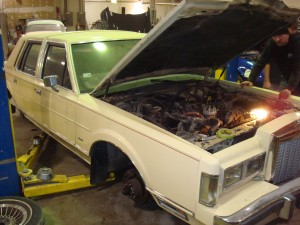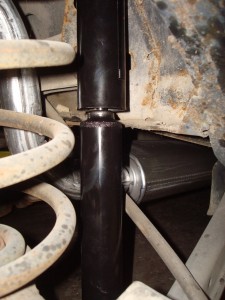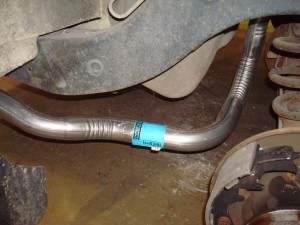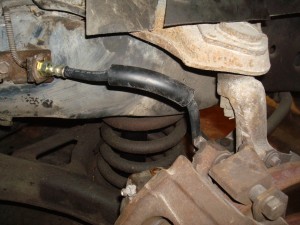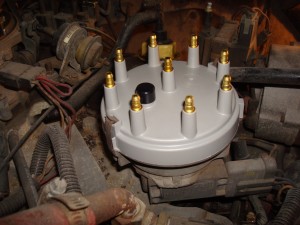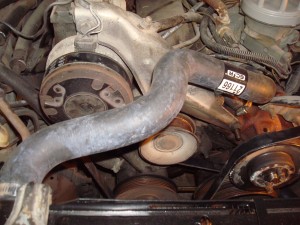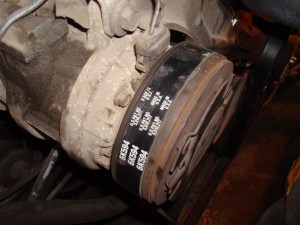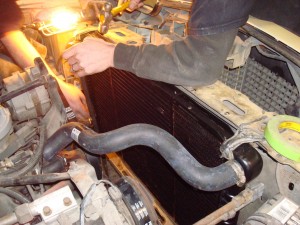 The Lincoln is back with its new tires.  It looks beautiful!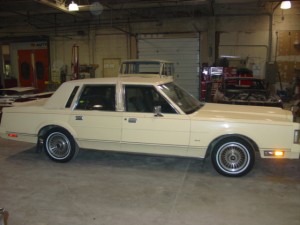 The Lincoln is done with mechanical and is now at the stage of disassembly.  Body work soon to come.
Alex is working on pulling out the interior and the vinyl top off the Lincoln.
Alex has almost finished the disassembly of the entire exterior of the Lincoln Town Car.
Alex is working today on getting the body sanded down on the 1985 Lincoln.
Started on repairing the damaged areas on the body.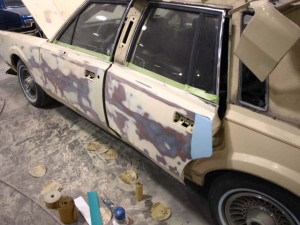 The Lincoln Town Car is primered and ready to get sanded for paint.
The first panels are painted for the Lincoln!  This car is looking great in a Midnight Blue!
The newly recovered custom backseat just arrived in shop!
The new door panels just got finished!
All of the hard pieces for the interior have been restored and color changed to red.  Now all we need to do is install the carpet, headliner, door panels and seats and we will be done with the interior.
We are prepping the Lincoln to go in for paint!
The Lincoln is getting masked off and ready for paint at the shop today.
The Lincoln Town Car is painted in a beautiful shade of midnight blue and ready for reassembly.
We are trying to steam and relax the carpet for the Lincoln today so we can get it installed.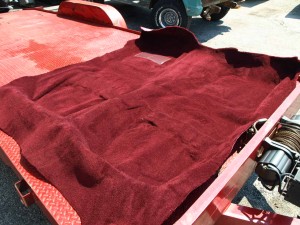 We are getting started on sanding and buffing for the Lincoln Town Car.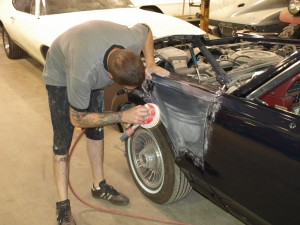 Now that the sanding is done for the Lincoln, we are buffing it to really make it shine.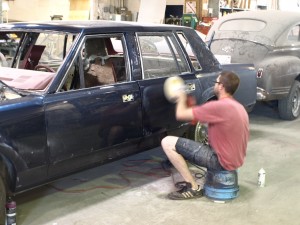 Here you can see some of the beautiful results you can get by sanding and buffing you car.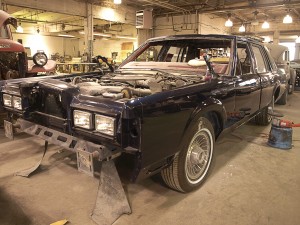 We are finishing the rest of the painting for the Town Car, including the deck lid, hood and moldings.
We are buffing the hood for the Lincoln and getting the vehicle reassembled.
We are tag teaming the reassembly of the Lincoln.
The new vinyl top is installed and the interior is nearing completion of assembly.