New job in the shop for restoration/customization!
We finished up with priming the bed yesterday, today we are working on sanding it down.
We painted the bed, bed panels and tailgate today for the El Camino.
All panels hung and making adjustments.  We are also installing the new suspension and brakes.
Air intake installed on Holley Dominator Carb, msd box installed and the rear end has been painted and is being serviced.
Pulling out the interior so we can start wiring the car.  We are using a painless wiring harness.
Working on installing the Painless Performance wiring harness.  Having so much fun!!
New steering wheel and restored dash getting installed.
Installing the new Eaton posi unit in the El Camino.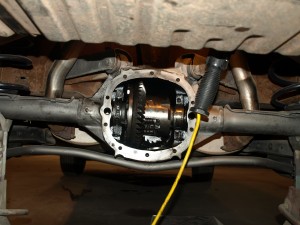 Installing the weiand supercharger system.
Ben is working on installing the new belt drive system and a/c system for the El Camino.  And Mike is working on finishing up the fabrication on the hood.