New job in the shop.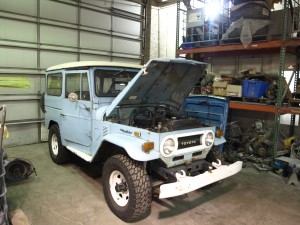 Repairing and priming the top for the Landcruiser.
Welding up the new rain gutter.
Precision Restorations is performing a car restoration on this 1974 Toyota FJ40.  When we estimate a restoration every project and every client is unique.  For this client the most important thing for this vehicle was to restore the mechanical systems.
For this vehicle we are:
-Rebuilding the engine, which will be rebuilt to original manufacture specifications
-Replacing the water pump
-Replacing the motor mounts
-Replacing the clutch slave cylinder
– Resealing the transmission and rear end
– Replacing all the brake components front and back
– Rebuilding the front differential
Today the specific task that Dan is working on is the rear end and rear brakes.