Ralph is disassembling the Demon to get it ready for body work to start.
Ralph is stripping the Demon to bare metal.
The Demon is stripped down and body work is ready to get started.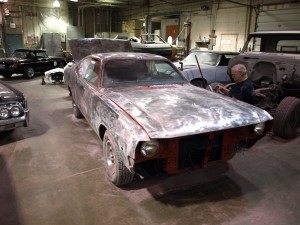 Ralph continues to push forward with the repairs to the Demon.
Ralph is getting the body work sanded down for the Demon.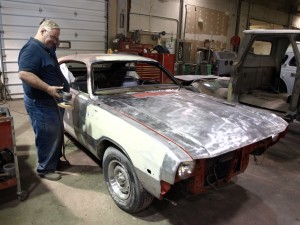 Ralph is still hard at work on the body repairs for the Demon.
The Demon is in the booth today getting masked off for primer.
The Demon is primed and is now ready to move into the mechanical department.
Demon is getting sanded down to prep for paint.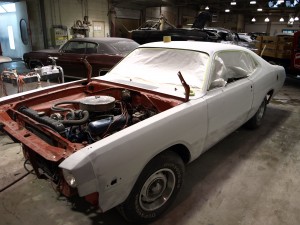 Dan continues to work on sanding down demon and painted the underside of the hood.
Dan is prepping the deck lid for paint.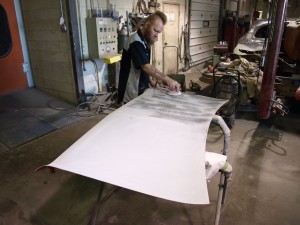 The top side of the hood and deck lid have been painted.
The Demon is painted and looks beautiful.
The duster is sanded, buffed and ready for reassembly.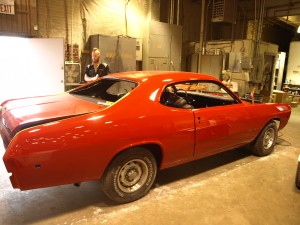 Moving on to the mechanical restoration.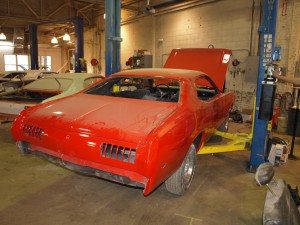 The new horn, battery, wiper motor and exhaust manifold gaskets are installed.
Reassembling exterior trim on the demon.
The new Edelbrock carburetor is installed.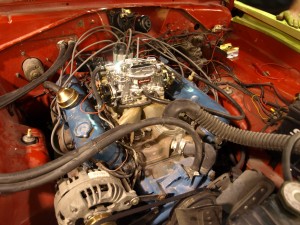 Who doesn't love a good muscle car? This one is about a cool as you can get, a 1970 Dodge Demon with a 360 cu in engine. This car came to us as a 10 footer. It looked good until you got close and noticed all the rust and dents. So, we started off this muscle car restoration by disassembling the vehicle and then stripping the paint off with 80 grit sandpaper. This allowed us to find all the damage and body filler that was hidden underneath. From there we repaired all the rusted areas by cutting out the bad metal and welding in new sheet metal. The techs then smoothed out the repaired areas with waterproof filler. We then used top of the line primer and paint from Spies Hecker to repaint the vehicle to the original red. The final touch was the new Demon Vinyl graphics package. We also mechanically cleaned up this car to get it back on the road.