The new a/c compressor, carburetor and radiator have been installed in the caddy.  The old a/c lines have been sent out and are being used as a template to build new ones.
Both exhaust manifolds have been removed.  We have sent them out to be decked.  They were not completely level so they were leaking.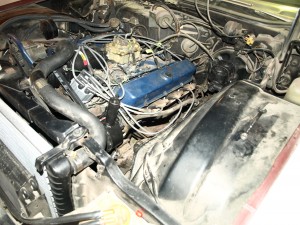 Dan is sanding the underside of the hood in preperation for paint.
Color of the interior samples vs the paint and pics of dan blocking and prepping the outsides of the loose panels.
The Caddy is painted, cleared and looks amazing!
Sanding and buffing the Caddy.
Assembling all the panels for the Caddy.
The Caddy is assembled and ready to go home!