Precision Restorations just got another new job to start!  This one is a 1969 GTO Judge.  The client does not want to go to far with car as it is all original, so we are going to just make sure that it is a beautiful as can be with what we have and make sure that it is completely safe to drive.
Dan has got the new timing chain and gear on the Judge and is about to install the cover with the new gasket.
Dan is working on resealing the transmission and replacing the oil pan gasket for the Judge.
Dan has the timing cover back on the engine.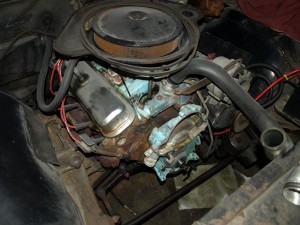 The radiator has been pulled out of the Judge to facilitate in the removal and repair of the water pump.
Dan is getting the control arm bushings for the GTO replaced.