New restoration job in shop.
Dan has made the necessary body repairs and the Charger is in the booth getting masked off.
The Charger is primed and ready to get sanded for paint.
The trunk for the charger has been coated in POR and splatter painted.
The dodge is in the booth, sanded and ready for paint.
The Dodge is painted and looks amazing!!!!
Dan is sanding and buffing the Charger.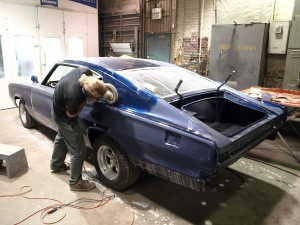 Dan is repairing the wiring for the headlights/dash and rear lights.
It has taken a couple of days, but nearly everything is functional now.
He has also worked on putting the steering column back together again.
Sway bar bushings, link pins and ball points are replaced.
Brake booster painted and installed, new tie rod ends installed and the idler arm is in.
The new steering wheel came in for the Charger!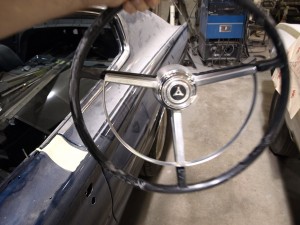 The door panels for the Charger are restored and look great.
Installing the A/C system from Vintage Air.
Installing the carpet kit.
Cleaning up the seats, the center console, assembling the console and continuing with the install of the interior carpet and trim.
Upholstery restoration and assembly continues.
More interior assembly.
The interior is now really coming together and Dan is working on the a/c install under the hood.
Installing the a/c and electric fan for the Charger.
Ben has installed the engine, painted the engine cover and rebuilt the side cover.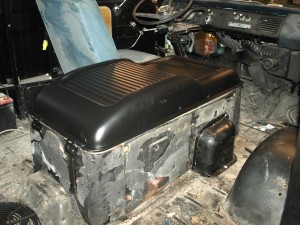 It is an honor to have such a rare classic car, such as this 1967 Dodge Charger in our shop.  Only about 15,000 Chargers were made in '67 and not near that amount has survived.  We are glad that we have the opportunity to bring this classic back to life.  When our client brought us this vehicle it was a shell of a car and about 15 boxes of parts.  Initally the client had tried to keep the cost of this restoration down by going with several smaller shops that would work on seperate areas of the vehicle.  What this resulted in was a 5 year build, with little progress and lots of lost parts.  Over the last 6 months we have tracked down all the missing pieces of this vehicle, repainted it, polished all the trim and restored the interior.
The vehicle is now really coming together and we are down to a few of the final items such as custom floor mats that have the Charger logo embroidered on them.  We expect this vehicle to be back on the road within the next month.
Final assembly items are getting installed today by Justin.
Fabricating the rear hatch door and dynamating the car.
Polishing and installing trim.