Cobra kit just got in house and is ready for assembly and paint.
427 engine for the Cobra is in house.  This engine boast 530 horsepower.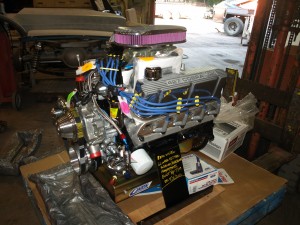 We are test fitting the trim to the Cobra kit car to make sure everything fit up okay.  Once we are done with that we will disassemble the vehicle and send it over to paint.
The body work for the Cobra is nearly complete and ready for Raderal.
The Cobra is in Raderal.  It is drying for a day and then will be blocked.
Mike is block sanding the Cobra to get it ready for paint.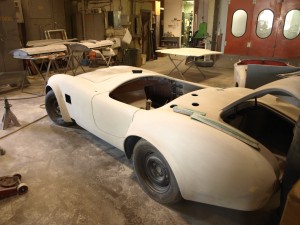 We are finishing up the final body work for the cobra and it is about to move into the first prime for paint.
Blocking the Cobra and priming it again.
Tobin is getting ready to start setting the drivetrain in the Cobra.
Tobin is mocking up the engine and exhaust for the Cobra today.
Dan has painted the inside of the doors and the underside of the hood and deck lid.
The Cobra is getting painted today.
Pictures of the stripes getting laid out for the Cobra and after it was painted and cleared.
Wet Sanding and buffing.
The Cobra Kit is completely sanded, buffed and polished to a high gloss shine.
Dan has the fuel tank, brakes and suspension almost completely set up for the Cobra.
Dan has the engine and tranny bolted together and he is getting ready to drop it into the chassis today.
The engine and tranny are situated in the frame for the Cobra and we are getting ready to set the body down in place.
The team here is setting the body on the chassis for the Cobra today.
Chris is installing the aluminum trim inside the engine bay of the Cobra.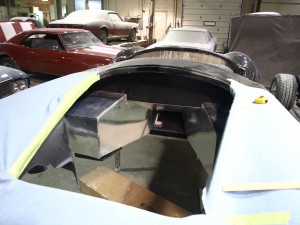 Now that all the engine bay aluminum panels have been installed for the Cobra the body has been set back on the chassis and Dan can start working on the wiring.
Dan is working on installing the pedal assembly, brake master cylinder and wiring.
Now that Dan is nearly completed with the wiring install for inside the vehicle he is working on the engine bay and front lights.
Dan is continuing forward on wrapping up the mechanicals and trim for the Cobra.
The interior is nearly fully installed.
The side pipe chrome covers are installed.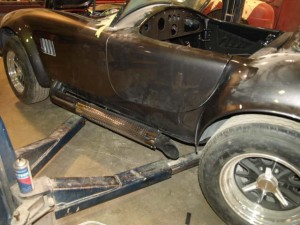 The five point harness is installed for the Cobra.
The 1967 Cobra is done and ready to go home.
We are block sanding the body of the Cobra so we are better able to see any high or low spots.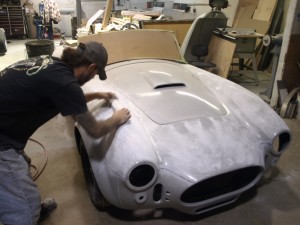 The Cobra is getting final sanded, masked off and put in the booth for paint.
Dan has started to assemble the drivetrain, suspension and brakes for the Cobra.
Mike is installing the interior for the Cobra.
The sidepipes have been installed and Mike will start working shortly on the stereo.
Installing speakers, dash and steering wheel.