Dave is done with the custom dual exhaust for the Bel Air.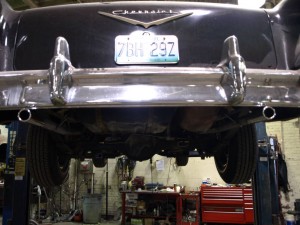 New job in the shop.  One of the original hell cars.
The interior of the Chevy is disassembled and the Dynamat will be ready to install tomorrow.
Getting ready to install the new Heidts front end.
The Heidts front end is installed on the Chevy.
Alex is reinstalling the interior after installing the dynamat.
Heidts front end system installed.
We have finished the Chevy build.  The new Heidts front end, electric wipers and Dynamat got installed.  The vehicle now feels like it handles and steers a lot better.  Not a complete street car yet, but farther away from a strict drag vehicle.