Larry is starting on the drivers quarter panel replacement for the 1955 Chevy Gasser.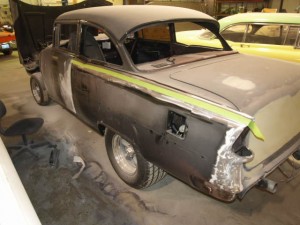 Larry is getting the new driver quarter installed on the 55 Chevy.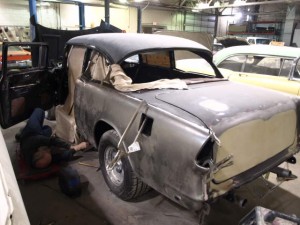 Dan is getting the '55 Gasser masked off and ready to paint.
The '55 Gasser is in the booth and primed.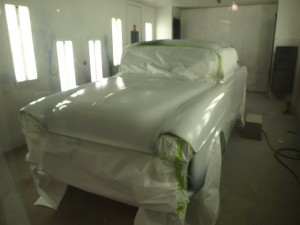 Dan has got the jambs painted for the '55 Chevy gasser.
Dan is block sanding the body of the '55 Chevy to get it ready for paint.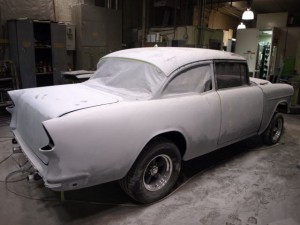 The roof is painted for the Chevy gasser.  Dan will soon be ready for the rest of the body.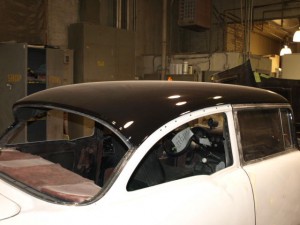 The gasser is taped off and ready for Dan to paint!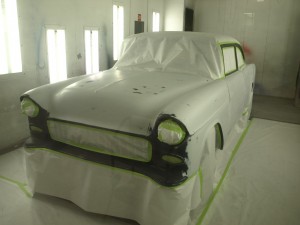 Painted and ready for sanding and buffing.
Dan is sanding and buffing the 1955 Chevy today!
The gasser is painted and fully sanded and buffed.
The front and rear glass are getting installed for the '55 Chevy to wrap up this restoration.
We have gotten started on disassembly necessary for the techs to start on the body and paint restoration for the 1955 Chevy.
Larry has started on the 1955 Chevy to get it prepped for body and paint.
Larry is removing the rear quarter off the Chevy.  We are going to be replacing the old quarter with new Nomad quarters.
Larry is almost done installing the passenger quarter and the body repairs to the deck lid.
Larry is done with welding on the new Nomad quarter and is working on smoothing it out at the seams.