New job in shop.  Restoration for a 1953 Mercedes.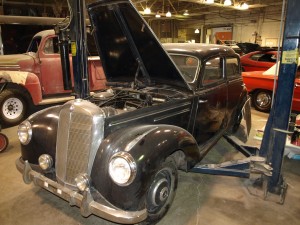 Disassembling the Mercedes.
Completely disassembled and ready for body repairs to get started.
More disassembly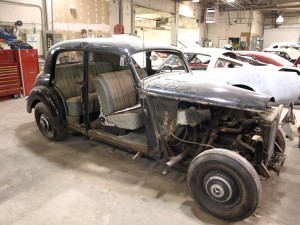 Ralph has made repairs to the upper deck lid area and is now working on the doors which he has already stripped and primed.
Repairing the running board and the front lower valance.
Stripping the body of the Mercedes.
All body panels are completely stripped.
In the booth and primed.
Repairing the doors.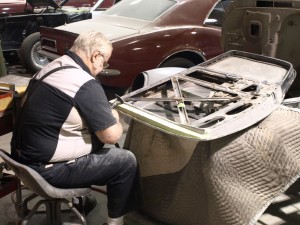 Repairs being made to the roof, sail panels and doors.
Deck lid body worked and working on the fender repairs.
Repairing the passenger lower cowl and one of the front fenders.
Ready for primer.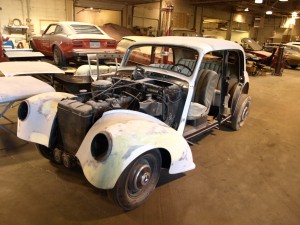 The Mercedes is primed and ready to move into the mechanical department.
Getting to work on some of the mechanical work for the Mercedes.  Including installing the new exhaust.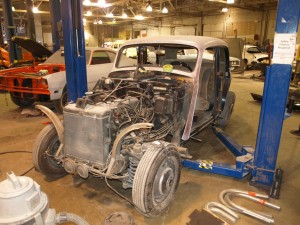 The engine has been powerwashed and cleaned and now can be tested for leaks.
Ben is painting all the accessories for the engine today.  This is going to make the engine bay look 100 times better.
The painting of the engine is finished and the new shocks have been installed.
Installing the rebuilt radiator and heater cores for the Mercedes.
Ben is wire, by wire repairing all the electrical for the Mercedes.
Ben is working on the front suspension, installing new hoses and cutting the paint in on the loose panels.
Wiring continues.
Body repairs continue.  Ralph has been working on the roof and the back half of the car today.
Painting the exterior of loose panels for the Mercedes.
Bryan is wrapping all the wiring in the original cloth conduit and tape that it would have originally been in.
Ralph has blocked the entire 52 Mercedes and Dan is buffing the loose panels for the 53.
Alot of suspension and rear end parts have arrived from Germany for the 220.
Pulled and resealed the rear end.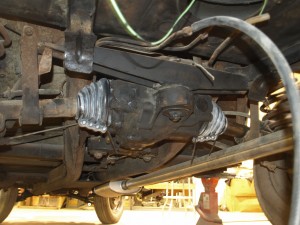 Disassembling the brakes to send the shoes out for relining.
Installing the new tie rods and drag link for the Mercedes.
The new master cylinder is installed.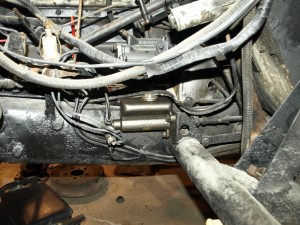 Installing a new drivers water jacket and new components for the brakes.
The water passages are cleaned out and the new side covers are getting installed.  Also, the restored gas tank has been painted and is getting reinstalled.
Sanding and masking the body of the Mercedes to get it ready for paint.
Installing the headliner for this classic mercedes.
The interior on the '53 Mercedes is going great!  We have the seats nearly finished, the headliner in and the carpet is getting installed.
Couple more shots of the restored interior the classic 53 Mercedes.