New job in shop!  This one is going to start as chopping the top and may move on to a few other items.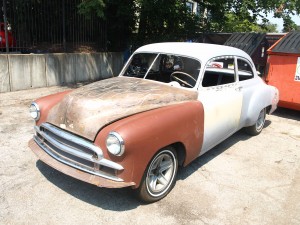 Chopping the top.
Patching in the metal for the rear sail panel and the door and pillers are chopped and welded.
Finishing off the sail panel on the passenger's side of the Chevy.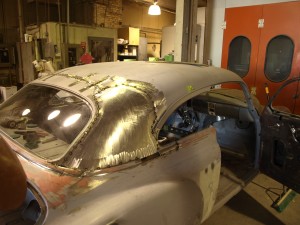 The chop of the top is done minus the finish welding and smoothing out of the body.
We are finalizing the welds to the roof for the Chevy and fabricating a few sheet metal pieces that were needed.
We are grinding the top down smooth after welding everything up.
Chris is finishing up the body work to the roof of the Chevy.
Chris is finishing up the body work to the door pillers from the chop.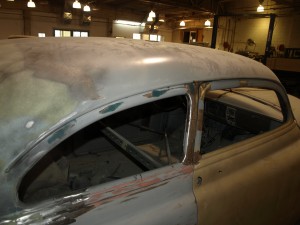 Tobin is getting all the holes welded up and body worked.
Chris has removed the front clip of the Chevy for repairs.
Chris has now completely separated the body from the chassis for the Chevy.
Chris has finished smoothing out the firewall for the Chevy.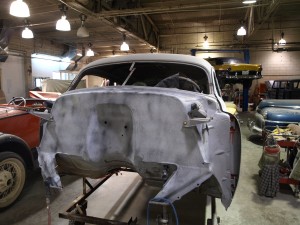 The new heidts four link set up is installed for the Chevy.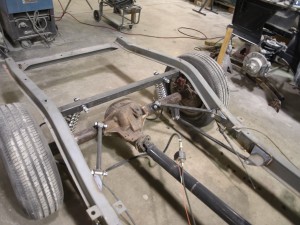 The frame is painted and ready to reassemble.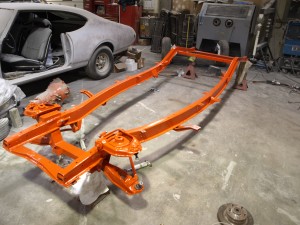 Matt has started to reassemble the chassis for the Chevy.
Del is working on finishing up the brake lines.
Finishing up the assembly of the chassis and getting ready to drop in the new engine.
The engine, tranny and tranny crossmember are set up in the frame for the Chevy.
Matt is done with scraping off the underside of the 50 Chevy and is working on applying the POR15 undercoat.
Dan has painted the undersides of the fenders for the Chevy.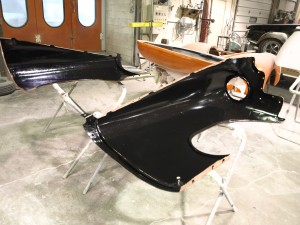 Finishing the sanding on the body to the vehicle ready for primer.
We are working today on fabricating up our new rotisserie so the 1950 Chevy can go up on it.  In the meantime Del is working on assembling the engine.
Dan is painting the orange undercoating for the Chevy.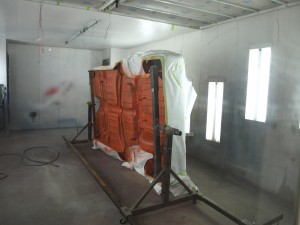 The team has got the body for the Chevy sitting on the chassis now.
Dan is getting ready to prime the Chevy.
The underside of the Chevy is painted, the engine and tranny getting hooked up, the steering getting hooked up and the exhaust is getting installed.
Front clip is getting reassebled.
Ready to go home!
Setting up the fabrication for the rear bumper of the Chevy.
Fabbing up the rear bumper.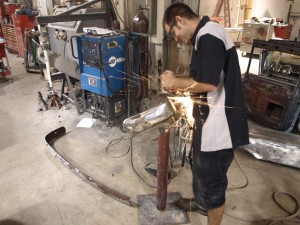 Test fitting the custom rear bumper.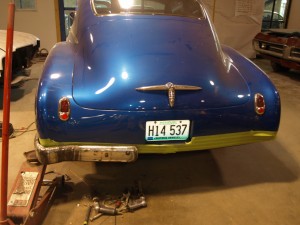 Both sides of the rear bumper are finished and ready to go to the chrome shop.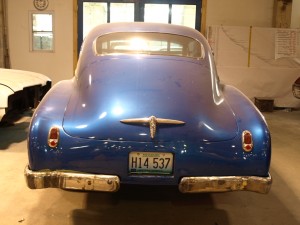 Dan is installing the Hurst floor shifter for the 1950 Chevy.