Expert Automotive Restoration & Custom Classic Cars
Where Memories Come Alive!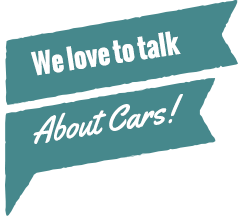 Even if you're not ready to start your next project, or if you have some questions, give us a call.
(314) 652-1966
Toll Free: 1-844-652-1966
The time to restore your classic car is now. You've been looking at the auto restoration pictures. You've been eyeing the shiny custom car paint at the muscle car shows. It's time to stop turning your head every time you hear an antique car's engine purr, and instead be the one making heads turn! And the best part? Precision Restorations' world renowned classic car restoration team makes customizing your dream car easier and more affordable than you ever thought possible.
Precision Restorations is an auto restoration shop that is truly passionate about each and every classic car, antique car, custom hot rod and muscle car restoration project we perform. We are nationally and internationally known for our quality craftsmanship, accurate upfront estimates and unmatched personal customer service. Our professional car restoration and customization team works with you to determine exactly how you want your car restored. We photograph and document each project online so you can follow along with your automobile's progress! We're happy to spread your payment schedule throughout your auto restoration project, and have a 0% financing option available. We get tons of questions asking "how much does car restoration cost" so we went ahead and published a FREE E-book you can download here to give you a better idea! It's even a lot more affordable than you think to freight or crate transport your special vehicle to us.
So really, we must ask again, what exactly is holding you back from getting started right now? It's time to feel proud of your old Mustang, Ford, Corvette, Dodge, Chevrolet, Plymouth, or whatever classic muscle or antique car you have collecting dust in your garage. Precision Restorations is here and ready to help you restore your trusty vehicle to its original glory days – TODAY!

As a life-long classic car enthusiast with a soft spot for Corvettes, Dale recognized the opportunity to fill a glaring void in the industry. "There are lots of fabricators, technicians, and painters in the restoration industry that are very talented at what they do, but have no interest in dealing with the headaches of running a business. My background is in developing businesses, so that gave me the idea of providing a platform where everyone can bring their skills together, and Precision Restorations was founded in 2008," he explains.
With a track record of business experience that stretches several decades, Dale built a highly successful courier and distribution management operation that was named one of the fastest growing companies in America by Inc. Magazine. Furthermore, his successful ventures have earned him the U.S. Chamber of Commerce Blue Chip award, and he was named the Small Business Person of the Year in 1994. Looking forward, Dale continues to leverage his business savvy and expertise to provide unparalleled customer satisfaction, and strives to take Precision Restorations to the next level.
Paul Stroker
Parts Manager
Just like most car guys Paul's passion started out as a kid helping dad in the garage. Paul said he would run around the garage with grease up to his elbows looking for anything to wrench on. His dad's Ford model A coupe (which now belongs to Paul) and a '62 Chevy station wagon were his first victims. It didn't stop there. As he grew older his list of projects did too. These projects included a '79 and '76 Malibu both with built small block Chevys, '65 Falcon and Fairlane, a '72 Lemans, and a '91 Mustang built for the track. Paul is also active in the Nostalgia race scene and an avid Harley rider cruising around on his '94 Harley Davidson custom chopper.
One of Paul's first jobs was sweeping floors and changing oil at a small shop which eventually turned into more difficult projects. As an automotive history buff, his extensive knowledge led him into a career of a hot rod and restoration parts specialists. Paul has developed many great working relationships with hordes of vendors and has a knack for coming up with that hard to find one of a kind part. He is a vital part of the Precision Restorations team. E-mail Paul at Paul@precisioncarrestoration.com for questions on anything regarding the Precision Restorations parts department.
Always surrounded by older brothers with cool cars as a kid, Frank Ellis had to get in on the action too. As a teenager and young adult, Frank was a Tri-Five Chevy guy to the core, having owned several '55 and '56 Chevys. The wildest one he built was a '55 two-door packing a 421 cubic inch Pontiac motor. Frank has built countless hot rods through the years, and he's currently working on a '41 Plymouth with suicide doors and plenty of original patina.
As a seasoned veteran, Frank brings decades of experience to Precision Restorations. Not long after he turned 15 years old, Frank went to work at a trailer shop next to his house. His mechanical skills made quite an impression on the owner, who also happened to run a hot rod shop in East St. Louis. Frank has been building and restoring classic cars ever since, and he has proven to be an invaluable asset at Precision Restorations. Frank can fix just about anything, and he particularly enjoys performing suspension and brake work.
Brad Libich
Technician, Welder, Fabricator
Necessity can be a great motivational tool, and when Brad Libich turned 15, his dad sent him off to the school of hard knocks. "We had a '72 Olds Cutlass convertible sitting in the garage that had piles of junk stacked on top of it. My dad told me that if I wanted a car to drive when I turned 16, then I better fix the Olds," he recalls. "I had to figure out what was wrong with it and how to fix it all on my own. I finally got it running, and when I turned 16 it was mine. I still have that car to this day." That experience kicked off a life-long obsession with cars, and Brad has compiled a very extensive collection of projects that reflect his diverse taste in automobiles. He is currently working on a '30 Ford Model A coupe, a '46 Willys Jeep, a '54 Chevy 210, a '60 Cadillac Series 62 coupe, an '88 Mustang GT, a '93 Mustang convertible, a '97 Mustang Cobra, and of course that '72 Olds Cutlass.
To further develop his mechanical skills, Brad earned a degree from Ranken Technical College. After working for seven years as an auto repair technician at major St. Louis area car dealerships, he took a welding course at Ranken that led to a seven year stint as a sheetmetal fabricator in the aerospace industry. Needless to say, Brad's diverse range of talents is a great asset in the Precision Restorations shop. Not only can Brad handle mechanical work—such as driveline, suspension, and electrical duties—but he also taps into his vast welding and fabrication abilities to fabricate custom exhaust systems, brackets, body panels, and any other part that's no longer available in a catalog.
Charley Ottwell
Custom Upholstery / Interiors
By maintaining a full-service custom upholstery department in-house instead of outsourcing upholstery work to a third party, Precision Restorations can maintain a much higher level of quality control. This wouldn't be possible without Charley Ottwell, Precision's go-to upholstery guru. He's been restoring car interiors since he was 12 years old, when he learned the tricks of the trade at his dad's upholstery shop. Together, they restored in interiors on all the family cars: a '56 Hudson Hornet, a '65 Mustang convertible, a '65 Buick Electra, and a '57 Ford panel van. "I loved doing upholstery work when I was 12 years old, and I still love it today. It's so rewarding to start with nothing, and then seeing the finished product," says Charley.
A perfectionist by nature, Charley specializes in making custom upholstery patterns and sewing entire interiors together. Doing this requires keeping a close eye on inventory to make sure all the materials and parts for an interior restoration are in stock.
Sometimes you literally stumble upon your future career path by accident. After wrecking his '94 Chevy S-10 pickup truck, with the help of a friend, Dan taught himself the art of collision repair by fixing it himself. Although the damage was minor, the project morphed into a full-on custom truck build with a lowered stance, and custom paint and graphics. Dan refined his artistic ability by landing a job at a body shop, and he later attended the Nashville Auto Diesel College.
Although it went against school policy, Dan made a few extra bucks painting and airbrushing cars on the side for friends and even some instructors. He went on to work at several restoration shops before joining Precision Restorations. As the lead painter in the shop, Dan's specialties include custom paint, airbrushing, and graphics. His work has earned him multiple industry awards, and Dan's projects have been featured nationally on magazine covers and on Spike TV. Dan is a true artist and it reflects in his work and his attention to detail. In his spare time, Dan enjoys customizing his '54 Pontiac Chieftan which has gone from a 4 door to a 2 door with a full custom grill, headlights and chopped top. He also in the process of a full custom '31 Ford Model A.
Find Your Dream Car
You dream it…we find it!

Our Client from Switzerland
St. Louis
Business Journal
May 21, 2014
By: Greta Weiderman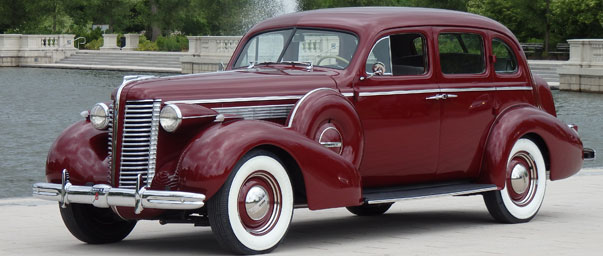 St. Louis Business Journal sought out Precision Restorations when they heard we were working with international customers. While certainly not the first client we have had from overseas his 1938 Buick is a truly spectacular example of what Precision Restorations is able to provide for their customers.
Along with the Business Journal review you can read more about this Buick in our blog.
Hot Rod Magazine Features Precision Restorations
Hot Rod
Magazine
November 2012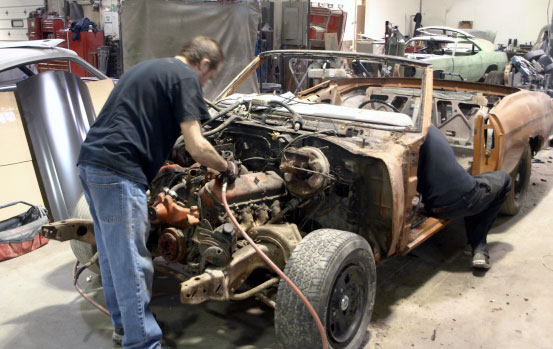 Every musclecar enthusiast dreams of having their car featured in a magazine someday, and you can't aim much higher than Hot Rod. With nearly seven million readers and a storied history spanning more than 60 years, Hot Rod has built its reputation on covering only the best that the performance and restoration industries have to offer. Tom Parker's numbers-matching '71 SS396 Chevelle convertible certainly fits that description, and the crew at Precision Restorations is thrilled to have helped make that dream a reality for Tom. Read all about it in the November 2012 issue of Hot Rod.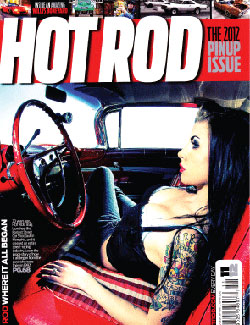 Each month, Hot Rod publishes a story outlining the complete build of a reader's project car from start to finish. The more extreme the makeover, the better, and Tom's Chevelle was nothing more than a rusty carcass when it arrived in our shop in November 2010. Over the course of the following 15 months, Precision Restorations reversed 23 years of neglect by replacing virtually every square inch of metal on the car in addition to rebuilding the engine, driveline, suspension, and brakes.
Needless to say, Tom is one happy camper. "I just picked up the new issue of Hot Rod, and all I can say is wow! How cool is that," he gushes. "I can't thank the guys at Precision Restorations enough. It's really a dream come true. My dad Charlie has been subscribing to Hot Rod for over 40 years, and he said he never thought one of his cars would be in it. He and I always talked about cars when I was growing up, many times while thumbing through the latest car magazine. It's amazing that we now have a car of our own to see in the pages of Hot Rod magazine!"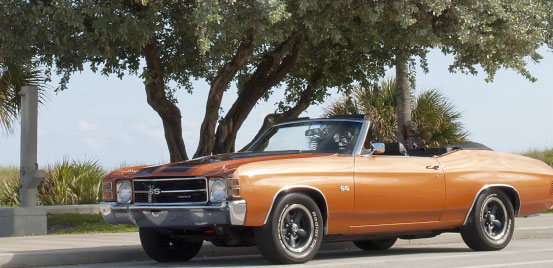 Precision Restorations on the Speed Channel
The Speed
Channel
May 21, 2014
By: Greta Weiderman
Below is the video that Charter Media did for Precision Restorations. This commercial is scheduled to air on the Speed Channel in December and again in January 2012 in conjunction with the Barrett Jackson auction.
We want to thank Charter Media for a great job and send a big thank you out to our Clients Mickey Waldman and Dave Rolfe that were interviewed for the commercial.
Precision Restorations on Powerblock TV
Powerblock
TV
July 19, 2011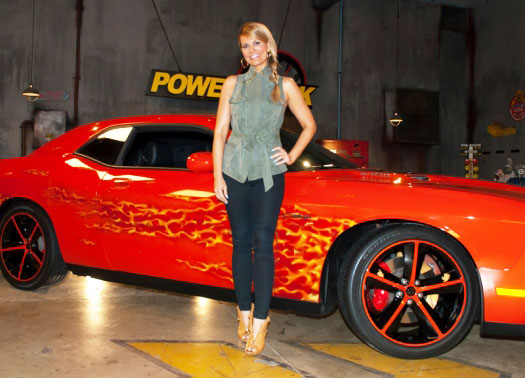 his 2008 Dodge Challenger SRT8 that was customized by Precision Restorations was recently featured on PowerBlock TV. The car is rightfully dubbed "Hotsauce" due to the true fire flames running down the sides of the car and in the engine bay.
The build outline of this vehicle included:
Airbrushing True fire flames on the exterior of the car
Airbrushing flames on the custom 6 piece engine cover kit
Painting the wheels orange and black to match the vehicle
The engine covers also have a custom drop shadow painted on them
The client was wonderful to work with and we are happy with the way that the project turned out and the notoriety that it has received across the nation.
Below are a few of the pictures throughout the build.