This 1977 Ford F-150 was completed for our client in memory of his father.  He had many memories of this truck as a kid and he wanted to bring these memories back.  After we went through this thing mechanically, include a new brake system, full engine reseal, transmission rebuild, rear end rebuild,  new fuel system, new cooling system, and adding aftermarket upgrades like power locks and air conditioning. We had this old truck ready for the road.  Since it was running so nice, why not paint it?
The truck was stripped down to bare metal, etched, sealed, body worked, primed, and painted.  The exterior included new front and rear bumpers, new weather strip, new grill surround and inserts.  All of these parts purchased from LMC.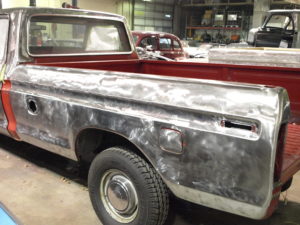 The interior was very basic, only getting a seat cover from NPD and a new steering wheel.
The old truck drives just as good as it looks and the technicians here have done just a fantastic job with this one.  We hope to see this truck on the road for years to come and we are happy to have had the opportunity to restore the memories for another client.